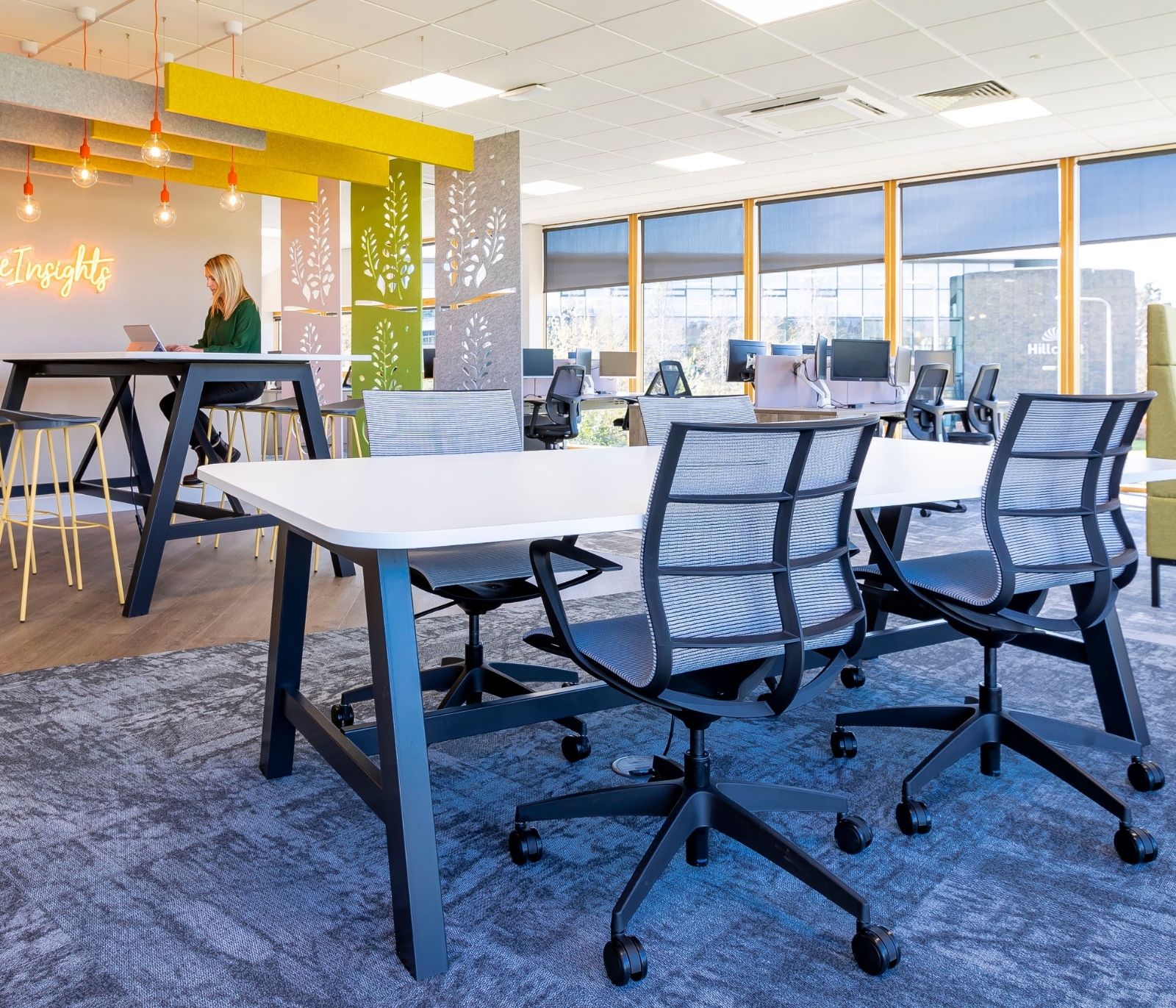 Project overview
The project involved two sites, Terra Nova and Innovation House, where there were many different types of furniture with varying footprints, styles, and design.
We worked closely with our design team and Insights to understand and support the client's objectives. Sustainability was an important part of the project, and furniture played a large role in that, with the client keen to re purpose existing pieces where they could and ensure any unkept pieces were responsibly disposed.
IT installation
As the Insights team had yet to return to their offices, we were able to use Innovation House to store the furniture for Terra Nova while that building underwent a total transformation. We completed the installation as each stage of the project was complete, working in six phases over as many months. This involved the full install of furniture and IT equipment, attaching monitor arms, setting up the monitors, and sorting the cabling so the desks were ready to go for their in-house IT teams to finish final setup.
Re-engineering through Recycle Scotland
s part of the initial furniture review with Insights, we determined that we would keep their existing desk frames and re-engineer with new tops to match the design of the new space. Because the existing frames had telescopic beams, they could expand and contract (within reason) to accommodate pretty much any size of desktop. Our furniture procurement department ordered new tops delivered to site. We attached the new tops to the existing frames and reinstalled the furniture as per the layout. In total we re-engineered over 100 desks.
All of the other furniture was removed from Terra Nova site and broken down into component parts which we then took for recycling.
Working as one
This was a large project involving several teams and divisions across Space Solutions and it's an excellent example of how Corporate Moves and Recycle Scotland work with our partner divisions across the wider company to deliver workplace transformations.
Learn more about our wider team
Project highlights
6-stage project across two sites delivered over 6-months
Removal, storage and reinstallation of existing furniture
Delivery management and installation of new furniture
Management of IT equipment installation
Re-engineering and recycling furniture
Insights is committed to sustainability and in maintaining a sharp focus on its environmental responsibilities. Accordingly, from the outset, it was essential to our company, its people and customers, that sustainability, repurposing and responsible recycling were at the heart of the plans to refurbish our offices. Space Solutions have been invaluable partners in supporting Insights to meet these objectives, whilst delivering beyond all expectations!

Facilities Team, Insights